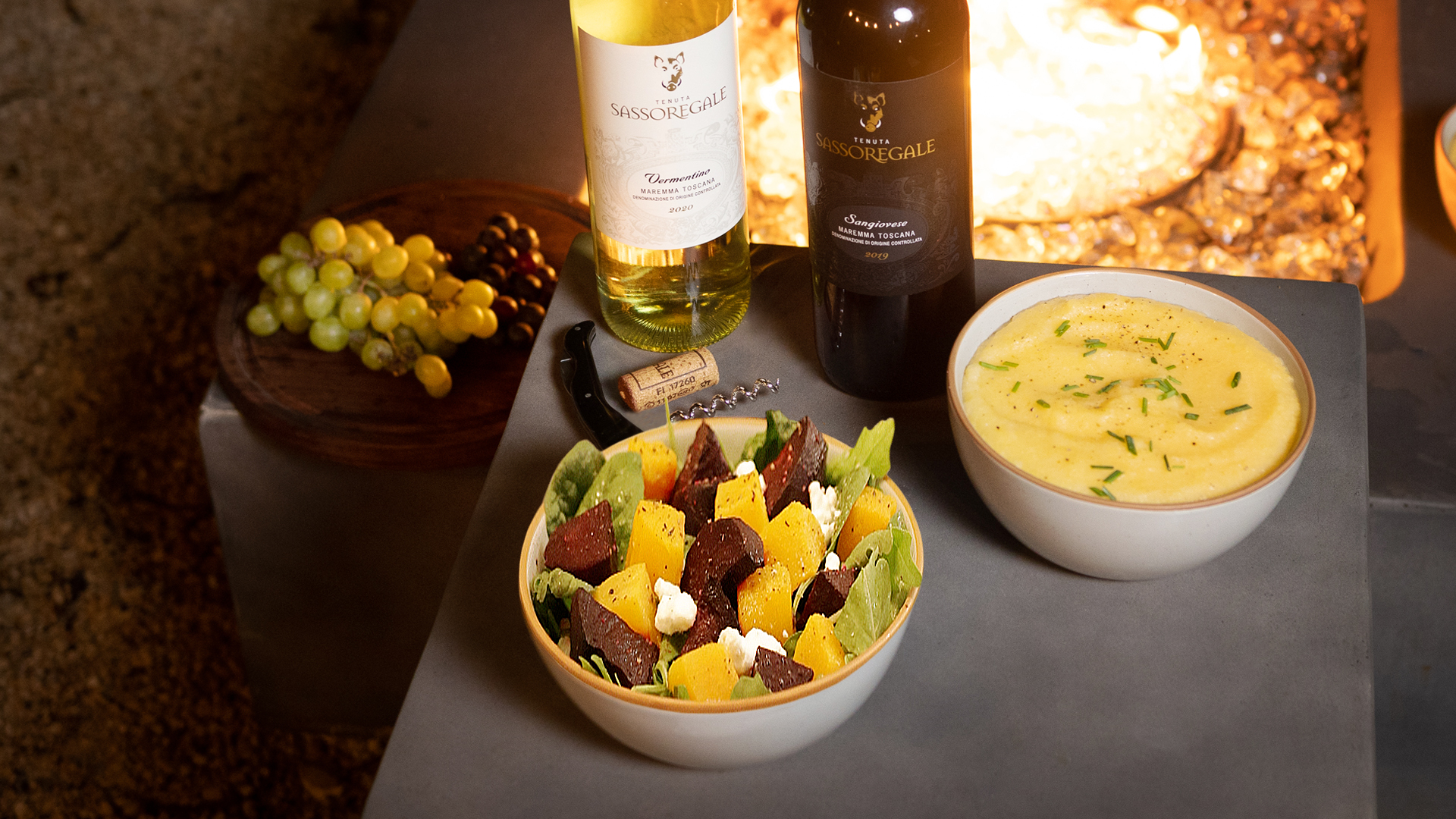 Roasted Beet Salad & Polenta
Ingredients
ROASTED BEET SALAD
8 medium-size beets, tops removed and scrubbed

1/2 cup balsamic vinegar

1/2 cup high quality olive oil

2 teaspoons Dijon mustard, such as Grey Poupon

1 teaspoon kosher salt and freshly ground black pepper

4 ounces baby arugula

1/3 cup roasted, salted Marcona almonds, toasted

4 ounces soft goat cheese, such as Montrachet, crumbled
POLENTA
4 to 6 cups water

2 teaspoons salt

1 ¾ cups yellow cornmeal

3 tablespoons unsalted butter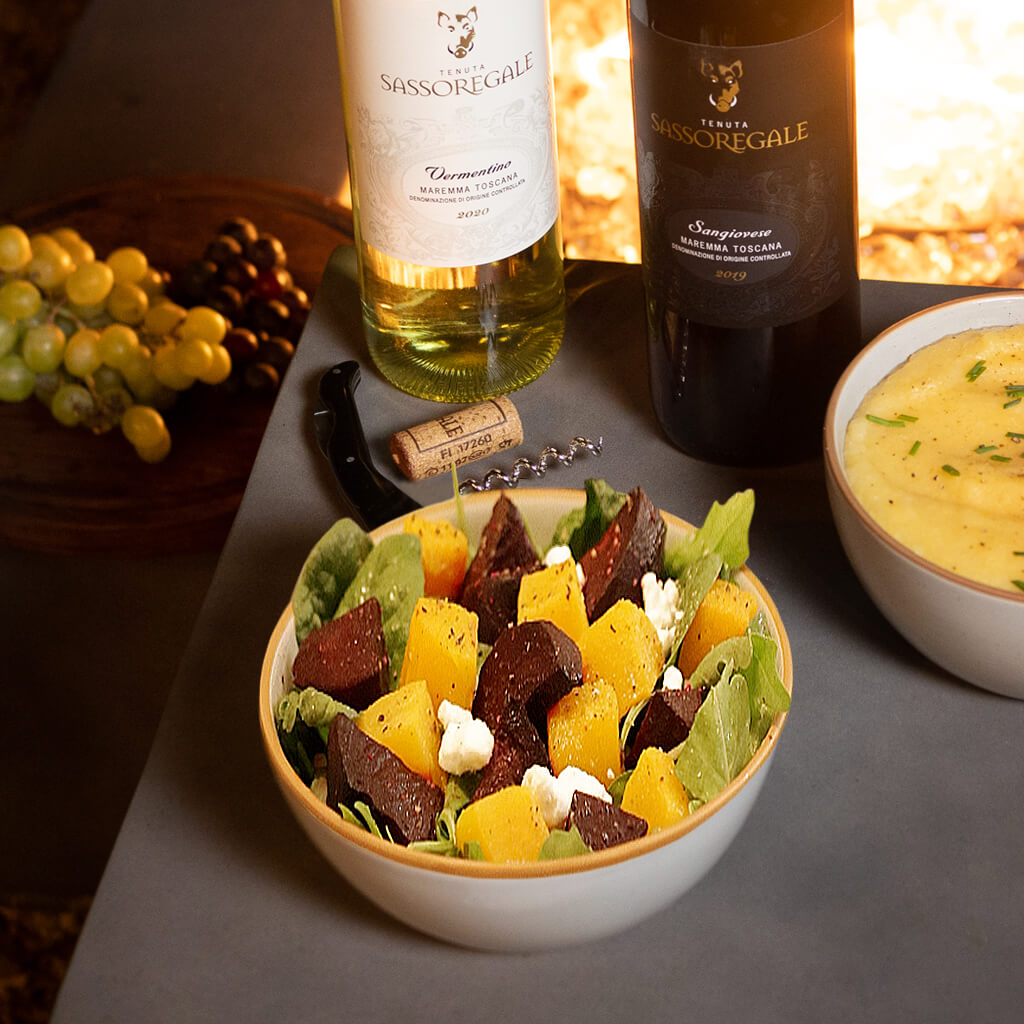 Method
ROASTED BEET SALAD
STEP 1
Preheat the oven to 400 F. 
STEP 2
Wrap the beets individually in aluminum foil and place them on a sheet pan. Roast them for 50 minutes to 1 hour for desired tenderness. Unwrap each beet and set aside for 10 minutes until cool enough to handle. Peel the beets with a small, sharp knife over a piece of parchment paper to prevent staining your cutting board.
STEP 3
Next, whisk vinegar, olive oil, mustard, salt, and pepper together and set aside your mixture. While the beets are still warm, cut each one in half into 4 wedges and place them in a large mixing bowl. Toss them with half of the vinaigrette (warm beets absorb more vinaigrette), 1 teaspoon salt, and 1/4 teaspoon pepper. Taste for seasonings.
STEP 4
Place the arugula in a separate bowl and toss it with enough vinaigrette to moisten. Put the arugula on a serving platter and then arrange the beets, almonds, and goat cheese on top. Drizzle with additional vinaigrette, if desired, sprinkle with salt and pepper, and serve warm or at room temperature.
POLENTA
STEP 1
Bring 5 cups of water to a boil in a medium-sized heavy saucepan over high heat. Add 1 teaspoon salt. Pour cornmeal slowly into the water, stirring with a wire whisk or wooden spoon. Continue stirring as the mixture thickens, 2 to 3 minutes.
STEP 2
Turn the heat to low. Add water as needed to keep a soft consistency. Put a spoonful on a plate, let it cool, then taste. Grains should be fully cooked, not raw. Adjust salt and add pepper if you wish. 
STEP 3
Lastly, add 6 tablespoons butter to the pot and stir well. Serve immediately or transfer to a double boiler place over low heat, cover and keep warm for up to an hour or so. (Or set the saucepan in a pot of barely simmering water.) Stir well before spooning into low soup bowls. Sprinkle with Parmesan, if desired.
More Recipes