 Fried Green Plantains
Ingredients
2 green plantains

4 cups water

1 tbsp salt

1 garlic clove, crushed

2 cups avocado or canola oil for frying

1 lb large shrimp, cooked or grilled

1 lime, cut into wedges for garnish
For green mojo (makes 1 1/4 cups): 
6 cloves garlic, peeled

1 cup fresh cilantro leaves, plus extra for garnish

1 cup extra-virgin olive oil

½ tsp ground cumin

1 tsp salt

1 tsp sherry wine vinegar
For guacamole: 
1 avocado, pitted, peeled, and roughly chopped

¼ cup fresh cilantro leaves, chopped

Juice from one lime

Sea salt and freshly ground pepper to taste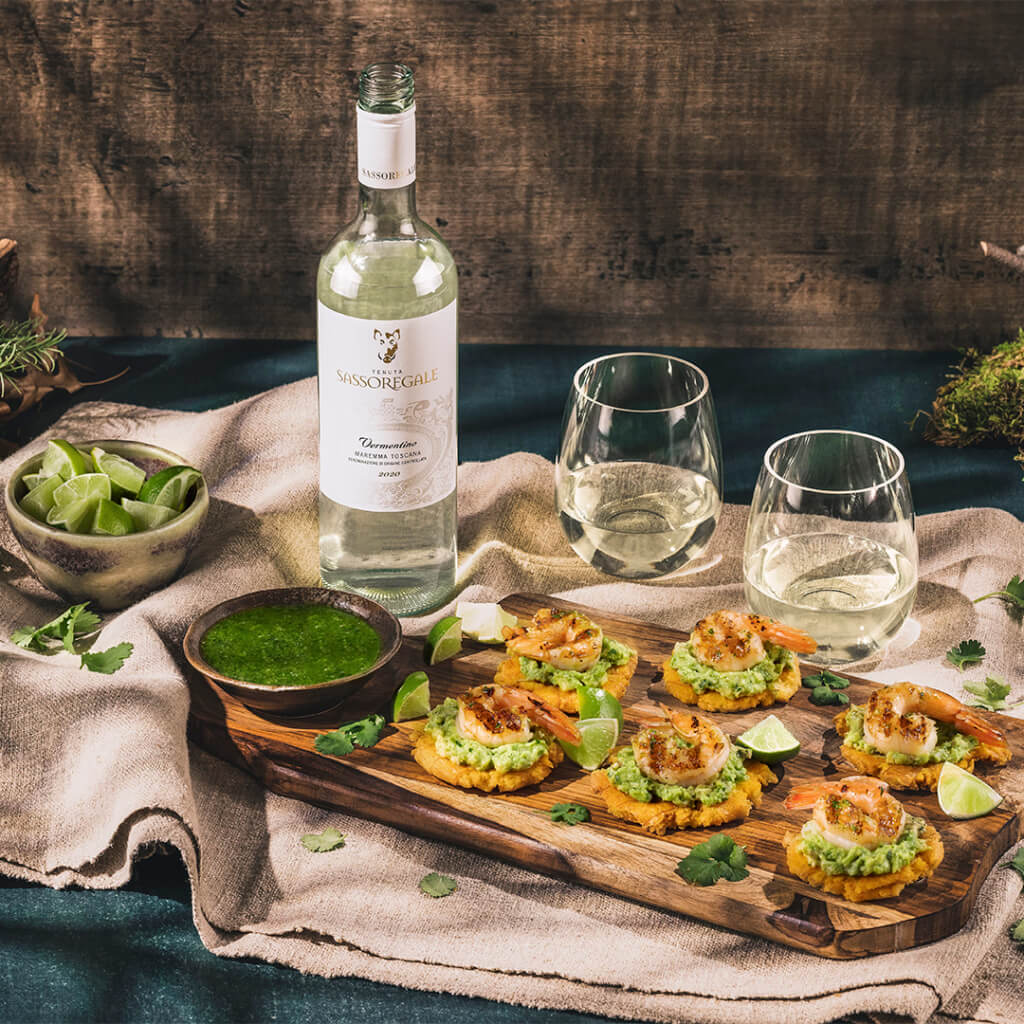 Method
For guacamole, add all ingredients to a small bowl and mix with a fork until blended. Leave it chunky or make it smooth, it's up to you! Set aside.

Peel the plantains and slice them into 1-inch rounds.

Add water, salt and garlic to a large bowl. Add plantain slices and soak for 10 minutes.

To make the mojo, pulse garlic and cilantro in a food processor until a paste forms. With the food processor on, slowly add the cup of olive oil, cumin and salt. Pulse until the mixture is homogeneous. Lastly, add the sherry wine vinegar and pulse for a few seconds. Pour mojo mixture in a serving bowl and set aside.

Thoroughly dry the plantain slices with paper towels.

In a large skillet over medium-high heat, add the oil for frying. Once warm (not hot!), add plantains. Fry each side until lightly browned, about 3 minutes. Remove plantains and flatten them with a tostonera, or the bottom of a plate or glass. Place each pressed plantain in a bowl of water for about ten seconds, then dry thoroughly. Fry them a second time, this time in HOT oil until they're golden. This is the secret to a fluffy interior. Remove from the skillet and use paper towels to drain.

Arrange tostones on a platter, top each one with guacamole and a cooked shrimp. 

Garnish with lime wedges and cilantro. 
More Recipes